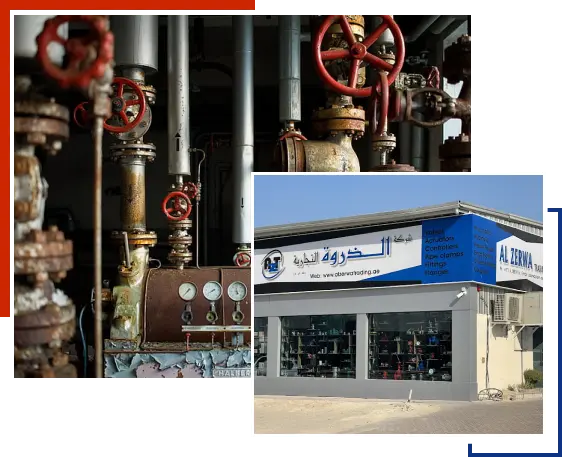 Welcome to Al Zerwa Trading Co.LLC (AZT), a pioneering name in the world of industrial solutions. Since our inception in 2003, we have emerged as a leading supplier of premier Valves, Pipes, Pipe fittings, Hydraulic clamps, Hydroline products, and an array of essential Oilfield items. Our unwavering dedication to excellence has propelled us to the forefront of this industry, where we continue to shape the landscape through our commitment to quality and innovation.
We take pride in our strong affiliations with distinguished European and American manufacturers, which have enabled us to expand our product range and clientele across the GCC region. With our gaze fixed on global horizons, we've successfully exported our offerings to more than 30 countries, gaining the trust and respect of international clients.
Our journey is interwoven with the Oil & Gas and Petrochemical sectors, which we passionately serve with a diverse catalog of superior products. Through the years, our enduring reputation and customer-centric approach have earned us a prominent place in the industry. At AZT, we don't just supply products – we deliver solutions that empower industries worldwide.
At Al Zerwa Trading Co.LLC, our vision is to be the foremost provider of industrial solutions, setting new standards of excellence in quality, innovation, and customer satisfaction. We aspire to lead the industry by consistently delivering top-tier products that enhance the efficiency and reliability of the Oil & Gas and Petrochemical sectors globally. Through strategic partnerships and a dedication to cutting-edge technology, we envision a future where our offerings play a vital role in advancing these critical industries.
Our core values define who we are. Integrity is the cornerstone of our operations, fostering trust and transparency in every interaction. We uphold a culture of innovation, continuously seeking novel ways to elevate our products and services. Dedication to customer satisfaction is embedded in our DNA – we go the extra mile to understand and meet our clients' diverse needs. Teamwork and collaboration fuel our success, enabling us to deliver comprehensive solutions. At Al Zerwa, these values guide our actions and underpin our commitment to excellence.
Get Customized Quotes for Your Specific Requirements